What we choose to keep in our closets can be very telling.  We all are presented with choices with our wardrobes — what do we hang onto and what do we let go of?
Some of us let go of things easily and quickly (perhaps even rotating in a new wardrobe every season or year), and others of us find it difficult to let go of a single thing resulting in a 'stable' wardrobe full of items that go way back, with endless variations in between those two points on the spectrum.
The things we choose to hang onto may be important to us – they may be in a favorite print (leopard for instance!) or it may be a particular style of item, such as shoes.
What do you hang onto?
We asked this question on our Facebook Page and found the responses to be intriguing!  We have organized and grouped these responses into 4 groups – the Super Styles.
Each of the 16 Style Types has a unique approach to style – her attitude to style, how she approaches style decisions, what style information she tunes into or ignores, as well as a host of style activities from shopping to getting dressed for the day (including where mood may come into it).
Our Articles page has a raft of information on each of the 16 Style Types, but we've also added a layer of simplicity to understanding style and personality by chunking the 16 Style Types up into – the four Super Styles: Sensing and Feeling (SF) – the Style Aestheticians, Sensing and Thinking (ST) – the Style Pragmatists, iNtuition and Thinking (NT) – the Style Strategists, and iNtuition and Feeling (NF) – the Style Dreamers.
In this series of posts, you'll be reading the responses to our Facebook posts to these interesting style questions, giving a new layer of understanding to how style and type intersect.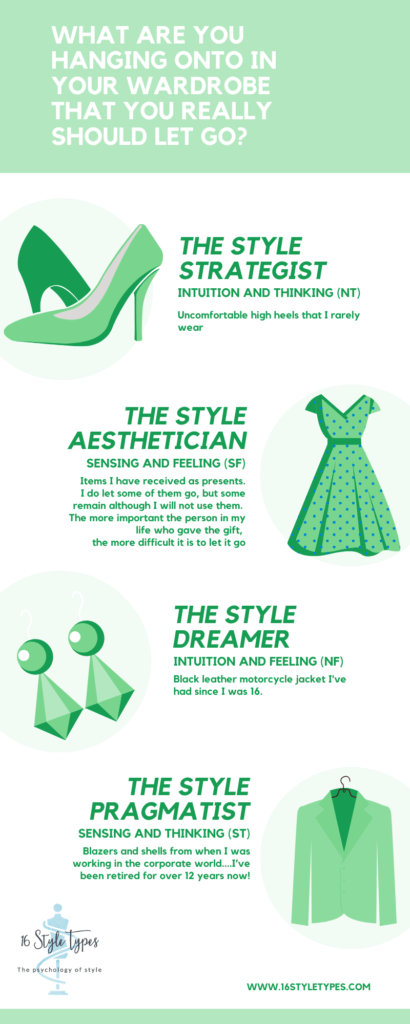 What are you hanging onto in your wardrobe that you really should let go?
The Style Strategist – iNtuition and Thinking (NT)
The items I custom sewed for my sister (INTP)
Clothes that are too big now (INTP)
Snake skin stilettos that are too beige (ENTP)
I have a few items, that I don't wear, but I have chosen to keep them (ENTJ)
Black leather handbag and black cashmere cardigan (INTJ)
Uncomfortable high heels that I rarely wear (INTJ)
Read more about the NT Style Strategist Super Style here.
The Style Aesthetician – Sensing and Feeling (SF)
Things that are "shoulds" – there was a good reason I bought them, they really should work –  but they don't seem to get worn and I struggle with the idea that I've wasted the time and money to obtain them but they aren't being worn (ESFJ)
Beautiful leather boots and bags in warm cognacs and tans (not in my palette). (ISFP)
Item I have got as presents. I do let some of them go, but some remain although I will not use them. The more important the person in my life who made a present the more difficult it is to let it go. (ESFJ)
Read more about the SF Style Aesthetician Super Style here.
The Style Dreamer – iNtuition and Feeling (NF)
The first jean jacket I made in 1971 when I was 15.(ENFP)
Black leather motorcycle jacket I've had since I was 16 (ENFJ)
Some wrap dresses that were my style 10 years ago (INFJ)
An evening dress (INFJ)
A few things I did a first-rate job creating but are way outdated…(INFJ)
There's nothing in my wardrobe that I'm keeping for the wrong reasons. I let go of a lot in the past few years (INFJ)
Read more about the NF Style Dreamer Super Style here.
The Style Pragmatist – Sensing and Thinking (ST)
A black cashmere coat that is also too big/ boxy for me. I keep thinking that I'm going to taper it. Not sure what I'm going to do about the color. You know, I spent more for it than anything, and it is so soft! (ESTP)
Really heavy, thick knitted wool sweaters – they're beautiful colors and patterns but I might look a bit like a box wearing them (ESTJ)
Blazers and shells from when I was working in the corporate world….I've been retired for over 12 years now! (ISTJ)
Nothing! I pride myself on decluttering without remorse! (ISTJ)
Read more about the ST Style Pragmatist Super Style here.
Get the Full Details on Your Style Type in Your Style Type Report
Your Super Style gives you the big picture about the link between your personality and your style.  But if you are looking for the detail which will truly mobilize your style, then you need to get your Style Type Report.  This gives you the motivating details to make a significant shift in your style, including how you think and feel about your style, and what your style motivators are.
If you are already know your four-letter type, click here to get your Style Type report.  If you are not 100% sure of your four-letter type, believe you may have been mistyped in the past, or simply wish to take a fresh look at what makes you, you –  discover your Style Type here.