Words by Jill Chivers
Illustrations by Imogen Lamport
16 Viewpoints on the Little Black Dress
I've just finished luxuriating in Little Black Dress by Andre Leon Talley, Gioia Diliberto, Maureen Dowd, and Robin Givhan, with Paula Wallace supplying the Foreword and the photographs by Adam Kuehl. A beautifully illustrated anthology of this now iconic item of clothing, it prompted some thoughts about how each of the 16 Style Types may think of, feel about, and experience the little black dress.
Little Black Dress is light on words (although the ones used are worth the read) and heavy on images. All the photos appear to be in black and white, showcasing black dress after black dress in artistic settings – a black dress of some variety donned by a faceless mannequin inside a crumbling ruin with evocative lighting, for example. Not all the images are like this, but there's enough that you feel like you've got an Art Book in your hands (or your lap – I needed support to hold it up, it's a hefty piece of work!).
How It All Began
Gioia Dilberto, one of the authors, takes us through the history of the little black dress, the invention and moniker so often attributed to Coco Chanel. We'll never know if she did, or did not, coin the term, but she certainly did create a black dress which she referred to as "The Ford" (as in Model T) in the mid-1920s, inspired, so we are told, by the nuns habits and school uniforms she saw all around her in the rural French convent she grew up in.
And inspired also, presumably and at least in some way, by the Model T Ford vehicle that was all the rage at the time – it only came in black, of course: "You can have any color as long as it's black." being one of the most famous quotes attributed to Henry Ford – his retort to customers asking about color choices for the Model T.  No one seems to know whether Ford actually spoke those words.
Black was an unusual color for a dress at the time, when the Roaring Twenties were in full swing, and color was awash in the fashion world. Black was, and still is in many respects, a color associated with sexual experience and mourning and was worn under specific circumstances by particular women – it was far from a staple in every woman's wardrobe. Not at that point in time.
Paula Wallace in the foreword, tells us that the little black dress is a fascinating phenomenon: "It's color the enigmatic hue of the cosmos, and the shape of a silent universe of desideratum". Something I confess I never thought of it as being or having. So there's that to add into our understanding of the little black dress, too! Who knew?
Wallace also tells us that the "canon of the little black dress is composed of countless individual stories embedded in social and cultural histories". Now that's something I find fascinating!
After all, this is what 16 Style Types was intended to help tap into – the individual history, the individual journey, the individual sense of beauty that each woman has within her.
16 Forms of the Little Black Dress?
So inspired by this book, its images and imagery invoked by all those fine words, I embarked on a journey of my own – to apply and correlate the little black dress to the 16 Style Types. I'd just have to find the different motivations and forms of expression for each Style Type.
A simple idea, but not so easy when I started to explore how to do this. You see, at 16 Style Types, we don't set any prescriptions (or even descriptions) on what a woman can or should wear – her style expression choices are a function of many, many factors, a goodly number of which have no direct relationship to her psychological DNA, and therefore are outside of what her Style Type Report can tell her.
As I immersed myself in Little Black Dress, a way to correlate the little black dress with the 16 Style Types presented itself to me – like a butterfly landing on my shoulder.
The book contains over a dozen quotes from designers on the little black dress, and some of them so clearly spoke to one Style Type over another. As I kept flipping and reading and flipping and reading, these links became so obvious to me. I started jotting ideas down… and before I knew it, I had 16 quotes about the little black dress that are quite beautifully correlated to the 16 Style Types.
The Quotes
The quotes from fashion designers invoke the spirit of the little black dress (the "LBD"). They speak of its possibilities, its substance, its quintessential qualities. They let us into what a little black dress might do for us, should we choose to own and wear one.
The quotes make a fashion promise with the little black dress as the magic potion.
And even if you don't own a little black dress… have never owned one… have never wished to own one… have no place in your life for a little black dress… it's intriguing to take a visit into the world of the little black dress through the lens of 16 Style Types.
Robin Givhan, another author of Little Black Dress, proposes that "few garments have continued to hold such an esteemed place in a woman's wardrobe and psyche – or have continued to inspire designers with such disparate points of view".
Ole! I couldn't have said that last part better myself (the first part, not so much). The 16 quotes you will find here do indeed express disparate points of view, each of them tapping into the essence of each of the 16 Style Types.
Expressing Your Personality Through the LBD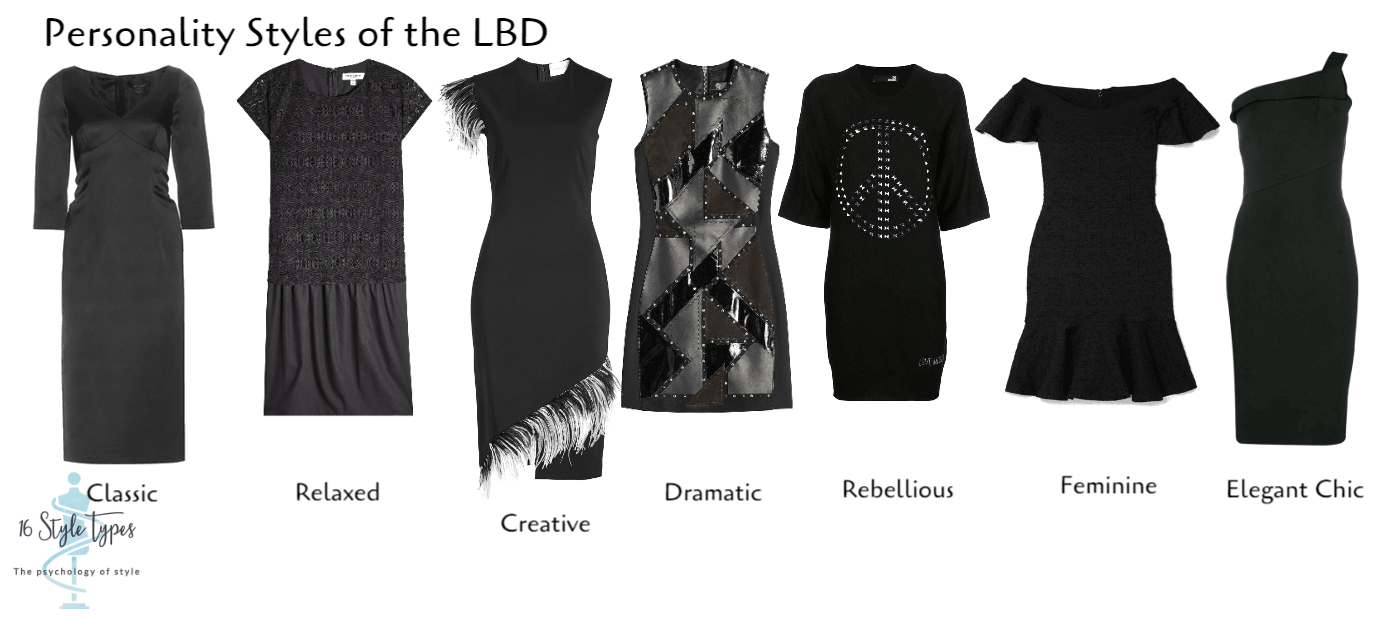 When thinking about the details and elements of style within any LBD,  the color is black, but there are still many other ways to make yours a great reflection of who you are.  Looking at the LBD and the 7 dressing styles, you'll see that there are many ways of making them different – the LBD doesn't just come in one form, there are a great variety of them.
Choose the elements of design that appeal to you from the dressing styles below to find a LBD that's right for you.
Classic – plain and simple, modest, opaque, symmetrical and structured
Relaxed – easy fit, comfortable, lightly textured, not overly formal
Creative – unique, asymmetrical, whimsical, unusual construction or detail
Dramatic – bold, shine, sharp, bodycon, large-scale detail
Rebellious – tight, plunging, unconventional, metal/stud detail
Feminine – soft, curvy, lace, chiffon, fit and flare
Elegant Chic – sleek, sophisticated, softly structured, modern
Keep these elements of design in mind as you read the quotes for each of the Style Types below.  You'll start to see more clearly which fit more easily and seamlessly, and will feel the most natural and right for you to choose for your LBD, should this item of clothing be part of your style expression.
The Sensing Types
The four Style Types who are dominant Sensing are ISTJ, ISFJ, ESTP and ESFP. Here are the quotes about the little black dress relating to them.
Appropriate Stylist ISTJ: The Style Organizer
"The little black dress is the essential uniform for every woman's every occasion. Black … consistently can and uniquely complements different women and different emotions, is perfectly balanced to be at once bold and striking while being demure and effortless timeless." – Carly Cushnie and Michelle Ochs
Harmonious Stylist ISFJ: The Style Friend
"The little black dress is the true friend. You remember when you met her… what happened the first time you wore her… she travels with you… is patient and constant… you go to her when you don't know where else to go and she is always reliable and timeless." – Diane Von Furstenberg
Resourceful Stylist ESTP: The Style Explorer
"The little black dress is modest and arrogant at the same time. It's lazy and easy, but mysterious. But above all, a little black dress says this: You don't bother me, I don't bother you." – Yohji Yamamoto
Vivacious Stylist ESFP: The Style Celebrator
"The little black dress takes us to parties, job interviews, weddings, and funerals. We experience all of life's big events in the little black dress. It can be respectful or empowering, depending on the design." – Norma Kamali
The iNtuiting Types
The four Style Types who are dominant iNtuitive are INTJ, INFJ, ENTP and ENFP. Here are the quotes about the little black dress relating to them.
Independent Stylist INTJ: The Style Scientist
"The little black dress is a giant stroke of genius: it can transform you into walking calligraphy. For me, the perfect little black dress disappears and becomes a potent symbol of controlled perfection." – Isabel Toledo
Subtle Stylist INFJ: The Style Enigma
"The black dress for me is an enigma – you could create anything within its concept. With a black dress, every woman can be a stylist, a designer, each time constructing something new and unique around the elegant abstraction that is a black dress." – Ulyana Sergeenko
Enterprising Stylist ENTP: The Style Chameleon
"The little black dress must be luxurious, rich, sensual, diaphanous, exotic, severe, lush, demure, demanding, frivolous, amusing, and it must linger in memory, but above all, it must be simple and little and black." – Carolina Herrera
Charismatic Stylist ENFP: The Style Inspirer
"I believe the little black dress is a quiet, yet dynamic gesture of individuality. Its curve, silhouette, and structure are articulated through line, proportion, and repetitious pattern. No layers, no gimmicks, and no hiding – only you, in a modern and classic state of refined and clear self-expression." – Mimi Plange
The Thinking Types
The four Style Types who are dominant Thinking are ESTJ, ENTJ, INTP, ISTP. Here are the quotes about the little black dress relating to them.
Effective Stylist ESTJ: The Style Traditionalist
"A little black dress is something to rely on. To fill you with confidence and ease. To have an attitude that is pure and effortless yet sexy and classy. It does everything you need it to. It can be day, night, and timeless if you get the right one. The ultimate black dress is a design classic… is perfection." – Stella McCartney
Standout Stylist ENTJ: The Style Powerhouse
"As a woman, a little black dress means a clear point of view. As a designer, it means business and what every woman needs. It represents what every woman wants – confidence." – L'Wren Scott
Complex Stylist INTP: The Style Theorist
"To me, designing a little black dress is trying to express in a simple, banal object, a great complexity about women, aesthetics, and current times." – Miuccia Prada
Individualistic Stylist ISTP: The Style Maverick
"The zenith of elegance in any woman's wardrobe is the little black dress, the power of which suggests dash and refinement." – Andre Leon Talley
The Feeling Types
The four Style Types who are dominant Feeling are ESFJ, ENFJ, INFP, ISFP. Here are the quotes about the little black dress relating to them.
Charming Stylist ESFJ: The Style Adviser
"Black is a definitive statement… nothing ambiguous like shades of gray. The little black dress allows a woman to become the color, the spirit, the life force." – Norma Kamali
Expressive Stylist ENFJ: The Style Connector
"The creation of the black dress is the purest form of expression for a designer. The absence of color allows one to focus on the fundamental elements of design: texture, tone, and silhouette." – Kate and Laura Mulleavy, Rodarte
Eclectic Stylist INFP: The Style Original
"Wearing a little black dress feels sober, austere, dramatic, and elegant all at the same time. A little black dress can be so much and somehow feel like nothing – restraint, frivolity, fantastically basic and so simple. The little black dress is the perfect paradox." – Marc Jacobs
Whimsical Stylist ISFP: The Style Artisan
"With every mood shift and proportion change of each collection, the little black dress morphs into a new character, season after season. Always." – Marc Jacobs
Honoring the LBD – 16 Ways
Each of the 16 Style Types is free to express her style in ways that work completely for her. Our goal at 16 Style Types is to introduce her to her style essence, the platform on which she can confidently base her style journey.
In this article, we've provided a lens through which the now iconic little black dress can be viewed with the 16 Style Types as that lens.  You may wish to take elements from a few of the 7 dressing styles in your LBD to express your authentic style – how you mix them is up to you.
There are significant distinctions in how each of the 16 Style Types will experience, think of, feel about, and choose to access any style elements, but particularly one that has so much legend and expectation attached to it, which the LBD most definitely does.
Style is a deeply personal journey, and our mission at 16 Style Types is to hold the light as you find your own way home to your style essence. And to charting the very best pathway to an authentic – and beautiful-for-you — style expression. Whether that includes a little black dress, or not – well, that's entirely up to you.
More 16 Style-Your-Way Articles
Leopard Print and the 16 Style Types
How to Use Thrift Shops to Find Your Style Expression